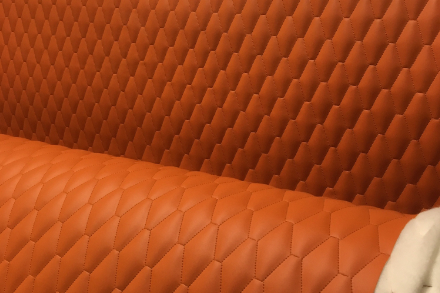 Our vinyl leather can be sewn with various patterns even for outdoors use because to produce them we use high quality components suitable for outdoor use (thread, padding, vinyl).
The 3 patterns C – G – H are available in stock for sale by the meter only in the article OASI 4001 white and 4018 ivory.
On request we can made other colors or patterns for minimum quantities of about 30-40 meters.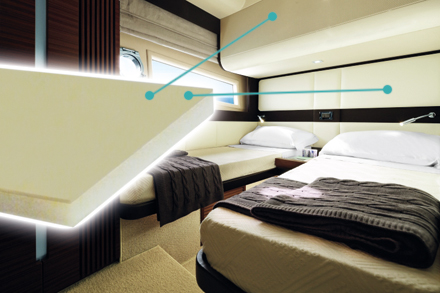 Consiste nell'applicazione sul retro della fintapelle o del tessuto di uno strato di gommapiuma (MTP) di spessore variabile (3 – 5- 8 mm) secondo le esigenze del cliente.
On the rubber-bonded back of the product it is also possible to apply, on request, a third protective layer made of needle-punched felt (TNT) or light polyester fabric (knitted fabric) that facilitates gluing or seaming. feltro agugliato (TN) e un leggero tessuto di poliestere (maglina) che facilita l'incollaggio o la cucitura.
The result is a product particularly suitable for wall and ceiling coverings.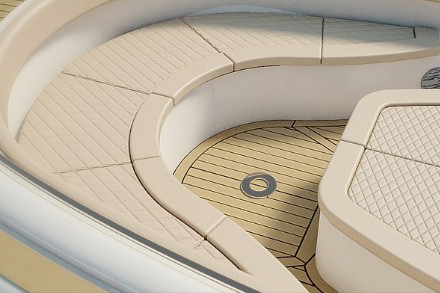 TRAPUNTATURA – ELETTROSALDATURA (QUILTING–ELECTROWELDING)
A high-frequency electrowelding machine is used to process vinyl leather and apply a soft layer of needle-punched polyester ("leacryl") and a third thin PVC layer that protects the padding from moisture and dirt.
The result is a pleasing "quilted" product that can be used also for covering outdoor cushions since the external fabric not having actually been punched it is completely waterproof.
The same processing can be requested with the internal padding in expanded PVC with a thickness of 4-6 mm which is more compact and resistant.
Don't miss the news, offers, discounts and even our tips.